SOCIAL RESPONSIBILITY.
START-VORARLBERG.
We recognize the importance of diversity and social responsibility to build more cohesive societies. For many years we have been supporting the Verein START Vorarlberg. This project was initiated to support talented students with migrant backgrounds with yearly scholarships. Further information can be found on the START-Website (available only in German).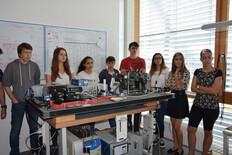 Report from our START-fellow Ramzan (available only in German)
Juli 2016
Anfang Juli stattete START-Vorarlberg mit Freunden, der START-Patenfirma Pantec Engineering AG in Liechtenstein, einen Besuch ab. Pantec ist ein Technologieausrüster für Maschinenbau und Medizintechnik, welcher sich als Dienstleister betätigt und global agiert. Mit Hauptsitz im Fürstentum Liechtenstein hat die Firma auch noch weitere Standorte in der Schweiz, in Deutschland und in China, und bietet 130 Personen einen Arbeitsplatz – davon sind 65 Ingenieure.